A land of striking contrasts and diverse landscapes, Australia offers a captivating setting for digital nomads in search of a memorable work and travel experience. This immense country, known for its friendly locals and world-class infrastructure, appeals to remote workers seeking a balance between productivity and leisure in a welcoming environment.
The urban allure of cities like Sydney and Melbourne draws digital nomads with their cosmopolitan vibe and strong sense of community. In contrast, coastal destinations such as Gold Coast and Byron Bay provide a more relaxed atmosphere, perfect for unwinding after a day's work. For those interested in exploring Australia's natural wonders, the heart of the Outback and the enchanting landscapes of Tasmania present opportunities for unforgettable adventures.
Digital nomads in Australia can expect reliable internet connectivity, numerous coworking spaces, and a variety of accommodation options catering to different budgets. The country's well-developed public transport system and extensive road networks facilitate travel between destinations, making it convenient for remote workers to explore the local culture and scenery while maintaining their work commitments.
The Aussies, with their trademark blend of laid-back charm and rugged spirit, have their own unique lexicon – where 'arvo' means afternoon and every greeting seems to ring with a sunny "G'day!" Their knack for innovation shines through, be it in world-class surfing techniques or in crafting the perfect brew.
All in all, for the digital wayfarer, Australia doesn't just offer a change in latitude but a transformation in attitude. It's where work transcends the mundane and takes on hues of adventure. So, to every nomad with a laptop and a lust for the uncharted: Australia beckons with both bandwidth and boundless beauty.
I. The basics
Cost of living
Australia offers a high standard of living, but this comes with associated costs. Here are some of the key expenses digital nomads should consider:
Housing: This is likely to be your largest expense. In major cities like Sydney and Melbourne, a one-bedroom apartment in the city center may cost around AUD 2,000-2,500 per month. If you're open to living further out or sharing an apartment, you can significantly reduce this cost.
Food: Eating out in Australia can be pricey, with a typical meal at an inexpensive restaurant costing around AUD 20. However, if you opt to cook at home, groceries for a single person might range from AUD 150-200 per week.
Utilities: Basic utilities for an apartment, including electricity, heating, cooling, water, and garbage, might cost around AUD 200-300 per month.
Internet: A broadband internet connection (60 Mbps or more, unlimited data) generally costs around AUD 60-80 per month.
Transportation: A monthly public transport ticket in major cities averages around AUD 150. If you plan on using rideshare services or taxis frequently, these costs can add up quickly.
Leisure activities: Costs here can vary greatly depending on your lifestyle. Keep in mind the price of gym memberships, tickets for cultural or sporting events, and any outdoor activities you're interested in, like surf lessons.
Remember, these are only approximations and actual costs can vary depending on your lifestyle, where you decide to live, and even the time of year.
Connectivity and infrastructure
Australia has a robust and reliable infrastructure that supports the digital nomad lifestyle, particularly in its urban hubs. The country offers high-speed internet with an average fixed broadband speed of around 42 Mbps and mobile internet speeds averaging around 50 Mbps. This ensures seamless video calls, quick file downloads, and smooth browsing experiences.
Public Wi-Fi networks are commonplace, particularly in city centres, cafes, restaurants, and libraries. However, some might require a small fee or a purchase to access. For those who prefer to work in co-working spaces, cities like Sydney, Melbourne, and Brisbane have an abundance of options, each providing high-speed internet, comfortable working environments, and opportunities for networking.
Australia's transportation infrastructure is among the best. Its cities are well-connected with extensive public transport networks, including buses, trams, ferries, and trains, making it easy to commute. The country also has a well-developed road network for those preferring to travel by car or bike.
Healthcare
Australia is renowned for its high-quality healthcare system, supported by cutting-edge medical technology, highly trained medical professionals, and well-equipped hospitals and clinics. Both public and private healthcare facilities provide a broad range of services, from primary care to specialized treatments.
However, as a foreigner, your access to the public health system (Medicare) may be limited, or non-existent, depending on your visa conditions and the length of your stay. It's advisable to secure a comprehensive health insurance plan that covers emergency treatments, hospital stays, and potentially, the cost of repatriation.
Some digital nomads might find value in global health insurance policies, specifically designed to cover people moving around various countries. Also, remember to keep your routine healthcare needs in mind, such as prescription medicines, dental care, and eye care, as these are often not included in basic insurance packages.
Safety
In general, Australia is a safe place to live and work, with relatively low crime rates, especially violent crime. The country ranks highly on global safety indexes. As in any country, city centres can have petty crimes such as pickpocketing or theft, so it's wise to take usual precautions, such as not leaving belongings unattended and avoiding poorly lit or deserted areas late at night.
Australia's natural environment, while one of its biggest draws, also presents unique challenges. The country is home to a variety of venomous creatures and has occasional extreme weather events like bushfires and floods. Always heed local advice when exploring the outdoors and stay updated on weather forecasts, especially during the bushfire season.
While Australia's police services are reliable and approachable, it's also advisable to have the contact information for your home country's embassy or consulate handy in case of emergency situations or legal complications.
II. Living in Australia as a digital nomad
Climate
Australia's climate varies greatly due to its size and geographical diversity. Generally, the country experiences a range of climates, from tropical in the north to temperate in the south, and arid in the interior. Seasons in Australia are opposite to those in the Northern Hemisphere, with summer occurring from December to February and winter from June to August.
Northern Australia: The climate is predominantly tropical, characterized by hot and humid summers with heavy rainfall and warm, dry winters. Cities such as Cairns and Darwin fall within this region.
Southern Australia: The southern regions, including cities like Sydney, Melbourne, and Adelaide, experience a temperate climate with warm to hot summers, mild winters, and rainfall distributed throughout the year.
Interior: The central and western parts of the country, including the Australian Outback, have an arid or semi-arid climate, characterized by hot and dry conditions with low annual rainfall.
Western Australia: The climate in Western Australia varies from the north to the south. The northern regions, including Broome and Exmouth, experience a tropical climate with hot, humid summers and warm, dry winters. In contrast, the southern regions, such as Perth and Margaret River, have a Mediterranean climate characterized by warm to hot, dry summers and cool, wet winters.
Nature
Australia is renowned for its unique and diverse natural landscapes, offering digital nomads a wealth of opportunities for exploration and adventure. One of the country's most famous natural attractions is the Great Barrier Reef, a UNESCO World Heritage site located off the coast of Queensland. As the largest coral reef system in the world, it is home to a vast array of marine life and offers incredible snorkeling and diving experiences.
In the Northern Territory, the Uluru-Kata Tjuta National Park features the striking red monolith of Uluru and the domed rock formations of Kata Tjuta, both of which hold deep cultural significance for Indigenous Australians. The park's dramatic landscape provides a stunning backdrop for hiking and exploration.
Along the scenic Great Ocean Road in Victoria, visitors can marvel at the impressive limestone rock formations known as the Twelve Apostles. These natural wonders provide stunning views and are a popular destination for coastal walks and drives.
Just outside Sydney, the Blue Mountains offer digital nomads the opportunity to experience Australia's rugged bushland, steep cliffs, and breathtaking waterfalls through numerous hiking trails and lookouts. The area is perfect for a day trip or a weekend escape from the city.
Kangaroo Island, located off the coast of South Australia, is a haven for wildlife enthusiasts. The island features diverse habitats and is home to native animals such as kangaroos, koalas, and sea lions, as well as pristine beaches ideal for relaxation and exploration.
Finally, the island state of Tasmania is known for its dramatic landscapes, including rugged wilderness areas, pristine beaches, and World Heritage-listed forests. In addition to its natural beauty, Tasmania offers a rich history and cultural heritage for digital nomads to discover.
Lifestyle
Australia's lifestyle is an appealing blend of relaxation and adventure. Aussies love the outdoors and take full advantage of the country's diverse landscapes. You'll find locals and visitors alike surfing along coastal towns, trekking through vast bushlands, and basking in the charm of the Outback.
The cuisine in Australia is a testament to its multicultural society. While it is home to uniquely Australian dishes like Vegemite sandwiches, meat pies, and barbecued snags (sausages), it also boasts an impressive variety of international cuisine, particularly Asian and Mediterranean. Seafood lovers will delight in the fresh catch from the surrounding waters. Australia is also well known for its coffee culture, with Melbournians particularly proud of their brews.
The nightlife in Australia is energetic and diverse. Major cities like Sydney, Melbourne, and Brisbane have a bustling night scene brimming with stylish cocktail lounges, friendly pubs, and vibrant nightclubs. These cities also regularly host music festivals and concerts. For those seeking a more relaxed evening, there are countless fine dining restaurants, art exhibits, and live theatre performances to enjoy.
Culture
Australia is rich in cultural diversity and history. Its Indigenous culture is one of the oldest living cultures on Earth, dating back over 60,000 years. This history is often best experienced through visiting areas of cultural significance, engaging with local Indigenous communities, and learning about their art, storytelling, and traditions.
Australia's cities also showcase its multicultural society. The influence of European and Asian cultures is particularly evident in architecture, arts, and food.
Australia is also teeming with local attractions, ranging from world-class museums and galleries to national parks filled with unique wildlife. Iconic landmarks include the Sydney Opera House, Great Barrier Reef, Uluru, and the Daintree Rainforest.
Language
English is the official language of Australia, which makes it an attractive destination for digital nomads from English-speaking countries. However, Australian English does feature unique slang and expressions, which can initially be confusing but are usually picked up quickly.
Even for those whose first language is not English, Australia is still a welcoming destination. Its multicultural society means that many Australians are used to hearing and speaking languages other than English. Major cities are very multicultural, with a significant number of residents born overseas. Signs and public services are predominantly in English, but essential services like hospitals often have translators available.
III. Cities to consider
Sydney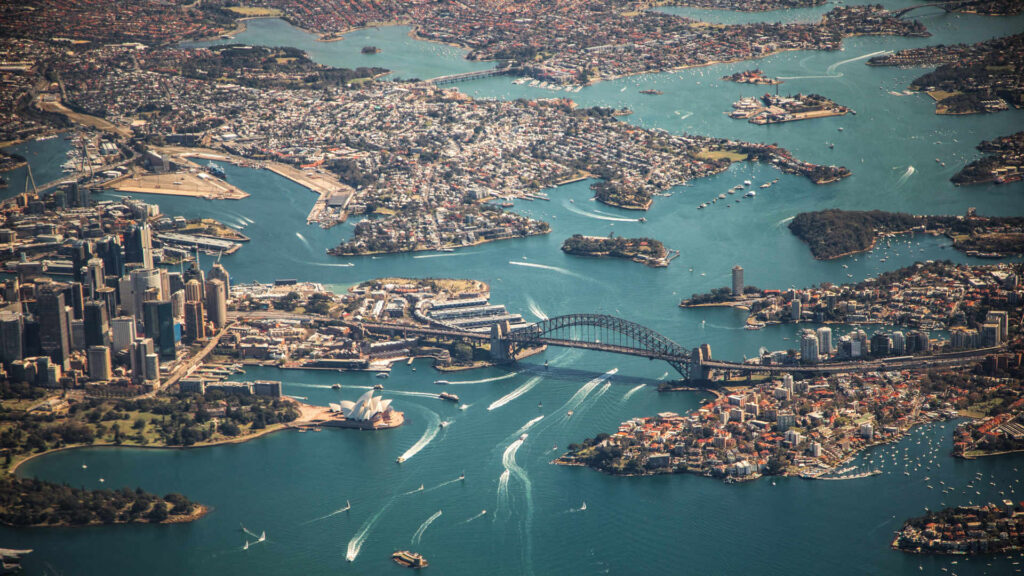 As Australia's largest city, Sydney offers a vibrant urban atmosphere and iconic landmarks such as the Sydney Opera House and Harbour Bridge. The city boasts stunning beaches like Bondi and Manly, ideal for relaxation and water sports. Sydney has a thriving start-up ecosystem, numerous coworking spaces, and excellent public transport, making it a great choice for digital nomads seeking a bustling, cosmopolitan environment.
Melbourne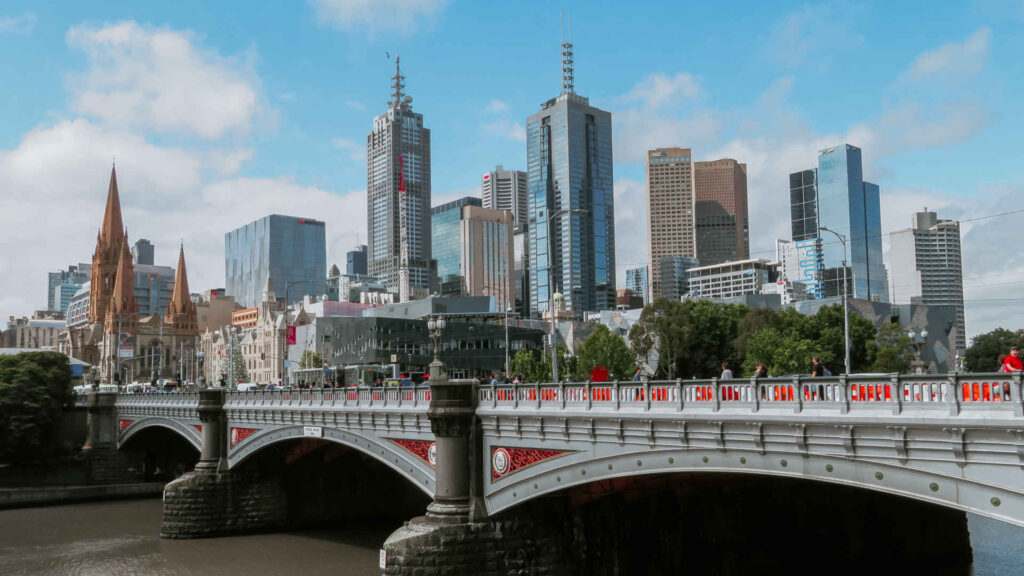 Known for its art, culture, and food scenes, Melbourne features a European flair with its historic laneways, street art, and bustling cafes. The city offers excellent public transport, a range of coworking spaces, and a strong tech industry. Melbourne hosts numerous cultural events and festivals throughout the year, providing digital nomads with ample opportunities to experience the city's diverse and creative atmosphere.
Brisbane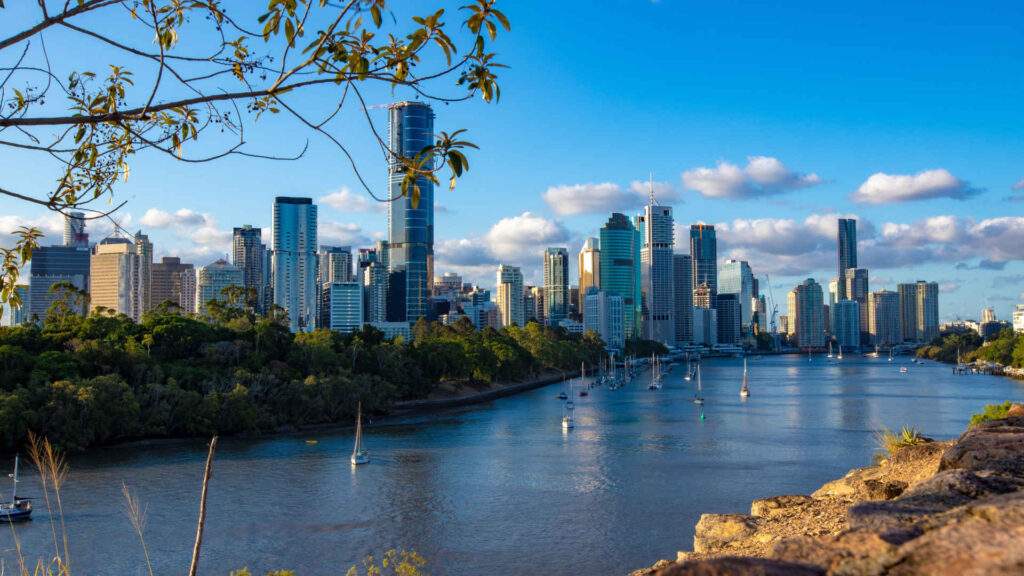 As the capital of Queensland, Brisbane enjoys a subtropical climate and a relaxed lifestyle, making it an attractive destination for digital nomads who prefer warmer weather. The city has a growing tech industry, multiple coworking spaces, and a vibrant arts and music scene. Its location provides easy access to nearby coastal attractions such as the Gold Coast and Sunshine Coast, as well as national parks and rainforests for nature lovers.
Adelaide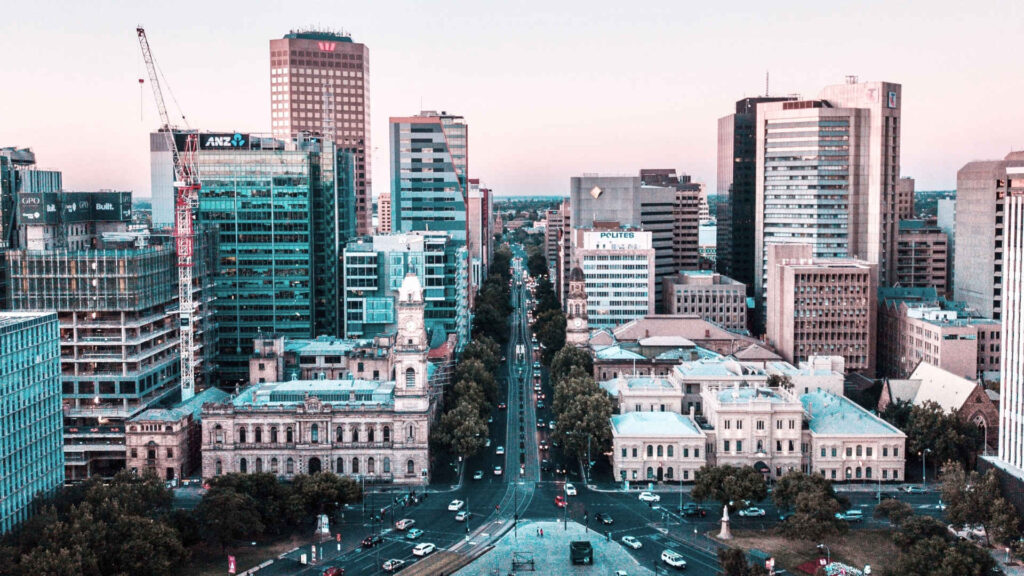 This smaller capital city offers a lower cost of living compared to other Australian cities, making it an appealing option for budget-conscious digital nomads. Adelaide is known for its wine regions, such as Barossa Valley and McLaren Vale, and its green spaces, including the picturesque Adelaide Botanic Garden. The city has a thriving arts scene, hosting events like the Adelaide Fringe Festival and WOMADelaide, and boasts a growing start-up community.
Hobart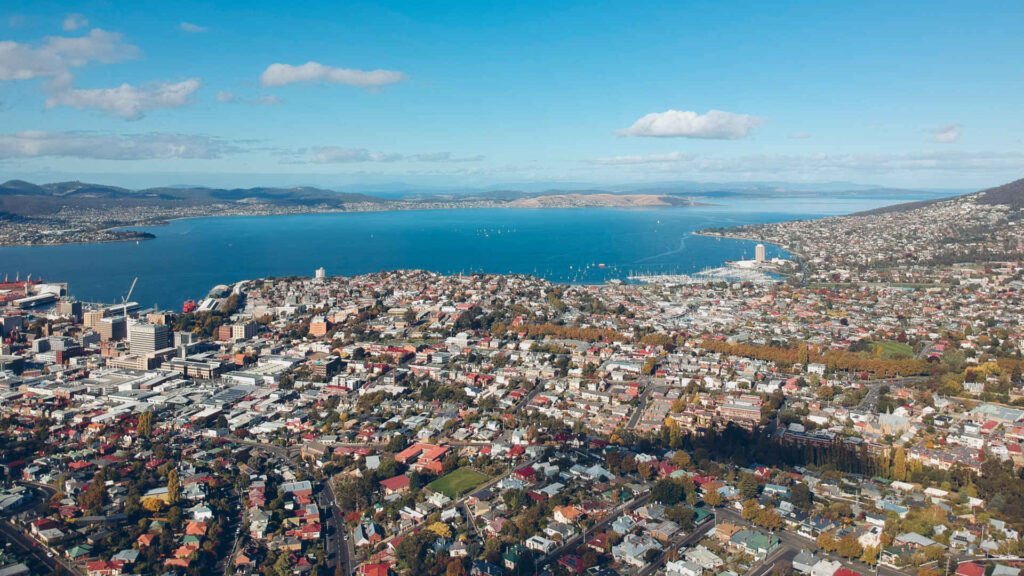 The capital of Tasmania, Hobart provides a unique blend of stunning natural beauty, rich cultural heritage, and a growing creative community. The city is an ideal base for digital nomads looking to explore Tasmania's diverse landscapes, such as the wilderness of Southwest National Park and the pristine beaches of Freycinet National Park. Hobart's waterfront district features historic sites, art galleries, and a vibrant food scene, including the famous Salamanca Market.
Perth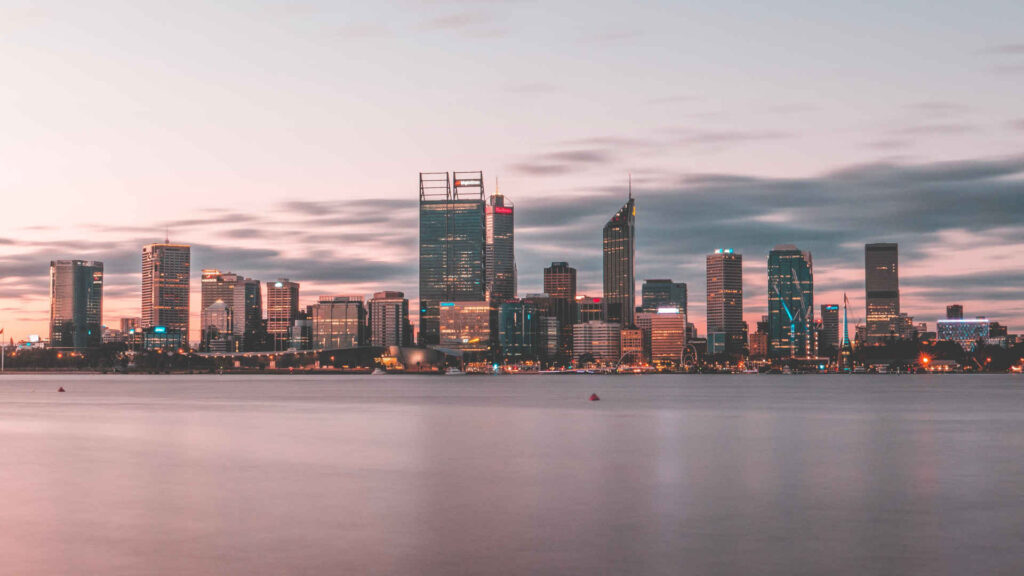 On the opposite side of the continent, Perth's sun-drenched beaches meet a buzzing café culture, all set against the backdrop of Western Australia's expansive natural beauty. This lively city serves up the perfect blend of work and play for digital nomads. With an edge in time zone compatibility for those working with Asian markets, a reliable infrastructure, and an array of welcoming co-working spaces, Perth effortlessly marries efficiency with the allure of the laid-back Aussie lifestyle.
IV. Off the beaten track
For digital nomads looking to venture off the beaten path and experience lesser-known destinations in Australia, consider the following options:
Byron Bay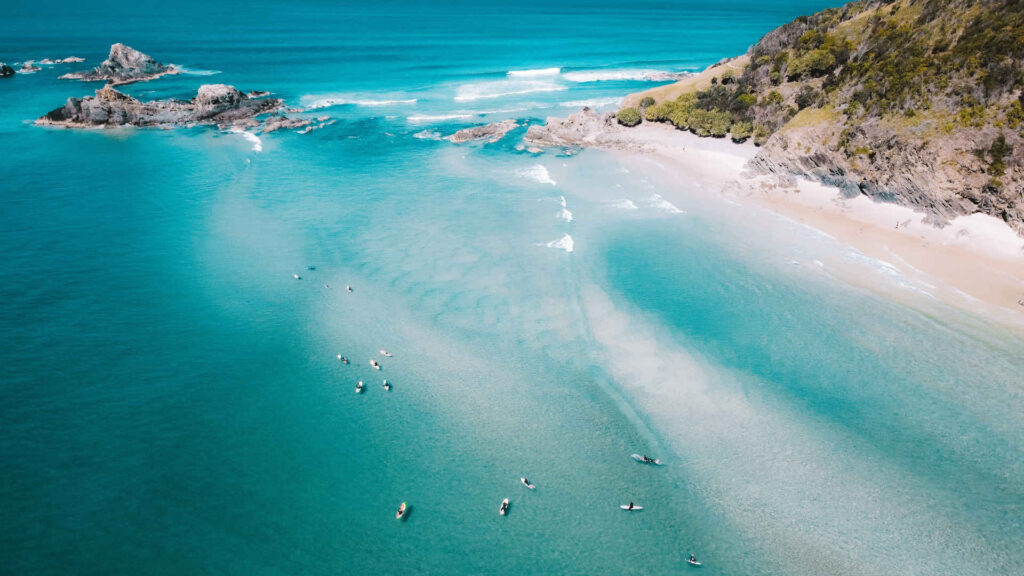 A charming coastal town in New South Wales, Byron Bay offers a laid-back vibe, beautiful beaches, and a thriving arts community. The town is perfect for those seeking a relaxed atmosphere, with opportunities for surfing, yoga, and exploring the lush hinterland.
Margaret River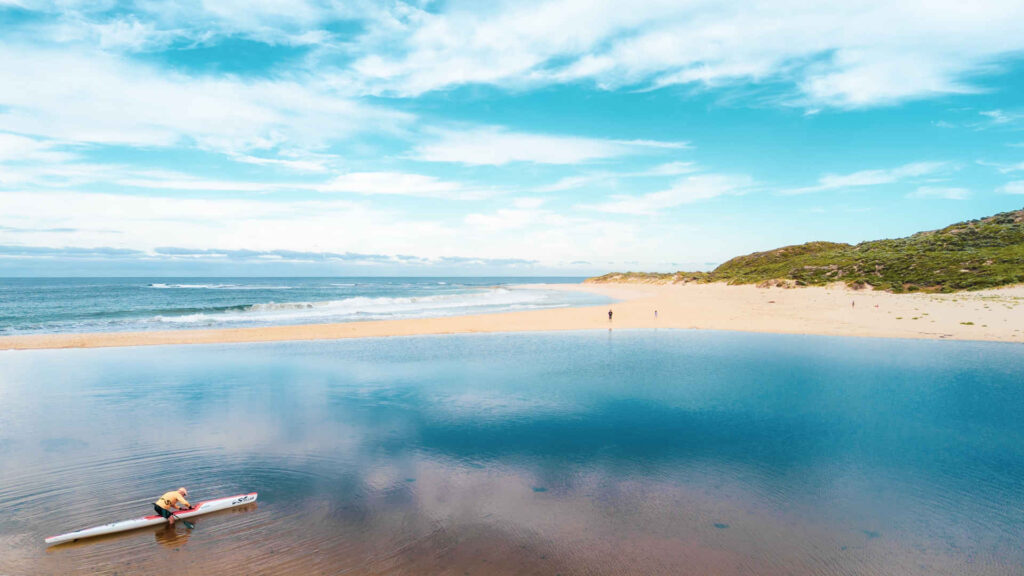 Located in Western Australia, Margaret River is renowned for its wine, stunning coastline, and lush forests. Digital nomads can work from local cafes or coworking spaces and enjoy surfing, hiking, and indulging in the region's gourmet food and wine scene.
Alice Springs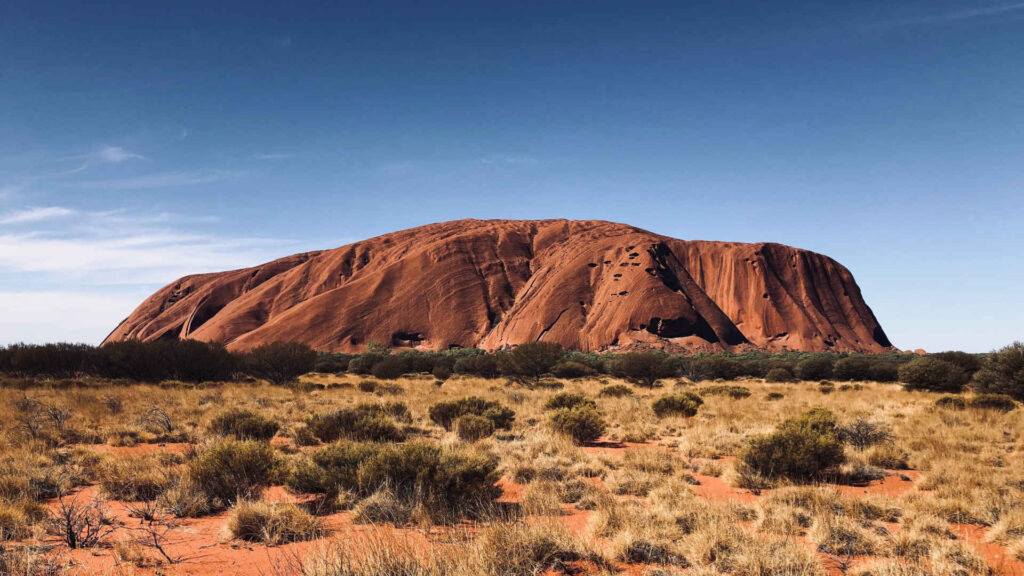 Situated in the heart of Australia's Red Centre, Alice Springs is an ideal base for exploring the Outback's natural and cultural attractions, including Uluru, Kings Canyon, and the MacDonnell Ranges. The town has a strong Indigenous arts scene and several coworking spaces, providing a unique and remote experience for digital nomads.
Launceston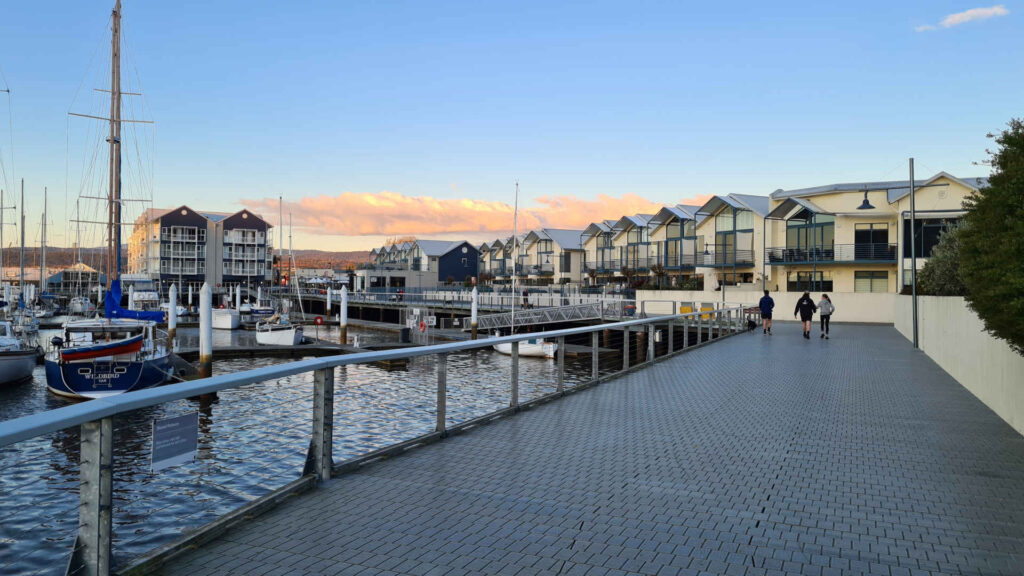 As Tasmania's second-largest city, Launceston offers a blend of history, culture, and natural beauty. Digital nomads can explore the city's well-preserved colonial architecture, visit Cataract Gorge, or venture into the nearby Tamar Valley wine region. Launceston provides a more low-key alternative to Hobart while still offering coworking spaces and a strong sense of community.
Port Douglas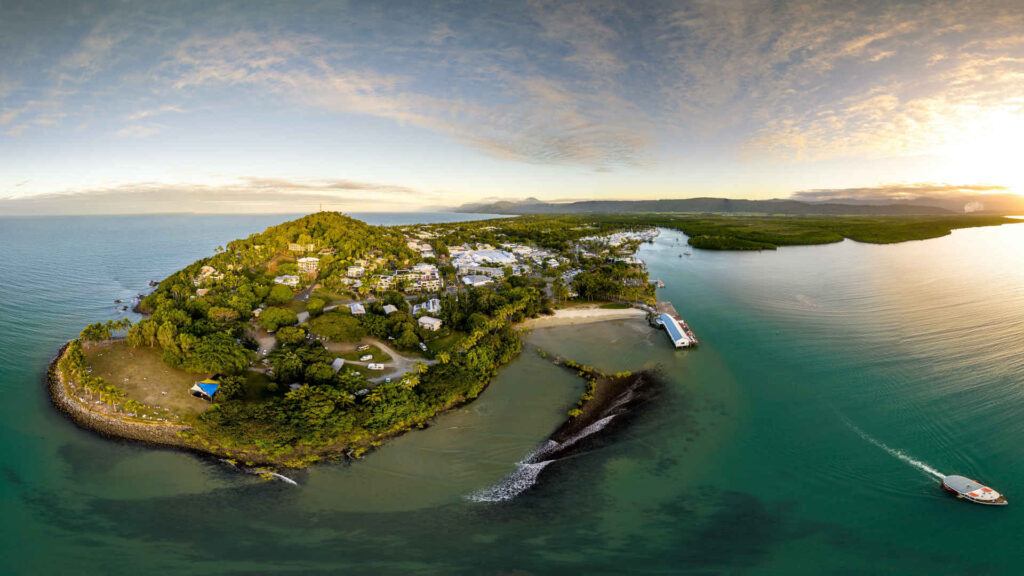 A tropical town in Far North Queensland, Port Douglas offers a relaxed atmosphere and easy access to the Great Barrier Reef and Daintree Rainforest. With beautiful beaches, a vibrant dining scene, and a growing number of coworking spaces, Port Douglas is an attractive off-the-beaten-path destination for digital nomads seeking a mix of work and leisure.
V. Visas and legal requirements for digital nomads in Australia
Types of visas available for remote workers
While Australia does not have a specific digital nomad visa, there are several visa options that may be suitable for remote workers, depending on their individual circumstances:
1. Visitor Visa (subclass 600)
This visa allows short-term stays (usually up to three months) for tourism or business purposes. Remote workers may use this visa for a brief stay in Australia, but they should not engage in any work for an Australian company or client.
2. Electronic Travel Authority (ETA) (subclass 601) or eVisitor (subclass 651)
These visa options are available for eligible passport holders from certain countries, allowing stays of up to three months for tourism or business purposes. Similar to the Visitor Visa, remote workers can use these visas for a short stay but should not engage in work for Australian clients or companies.
3. Working Holiday Visa (subclass 417) or Work and Holiday Visa (subclass 462)
These visas are designed for young travelers aged 18-30 (or 18-35 for some nationalities) and allow them to work and travel in Australia for up to one year (with possible extensions). While these visas are intended for temporary or casual work, digital nomads may use them to support their stay in Australia as long as they adhere to the visa conditions.
4. Temporary Skill Shortage (TSS) visa (subclass 482)
This visa is for skilled workers sponsored by an Australian employer. While it may not be directly applicable to most digital nomads, it could be an option for remote workers who find employment with an Australian company willing to sponsor them.
Application process and necessary documentation
The application process and documentation requirements vary depending on the type of visa. In general, applicants should:
Determine the appropriate visa type based on their nationality, intended duration of stay, and purpose of the visit.
Gather the necessary documentation, which may include a valid passport, proof of funds, health insurance, and a completed application form.
Apply for the visa online through the Australian Department of Home Affairs website (https://immi.homeaffairs.gov.au/). Some visa types, such as the ETA or eVisitor, can be applied for through travel agents or airlines as well.
Pay the required visa application fees, which vary depending on the visa type and the applicant's nationality.
Await a decision on the visa application. Processing times vary depending on the type of visa and individual circumstances. It is recommended to apply well in advance of the intended travel date.
Please note that visa requirements and conditions may change, and it is essential to consult the Australian Department of Home Affairs website or contact the nearest Australian embassy or consulate for the most up-to-date information.
VI. Tips for a smooth landing in Australia
Finding Accommodation
Secure, comfortable accommodation is paramount to the digital nomad experience. In Australia, your options range from serviced apartments in bustling city centres, shared houses in the suburbs, or beachfront homes along the beautiful coastline. Start your search with websites like Flatmates, Gumtree, and real estate portals like realestate.com.au. Remember to check out reviews and do virtual tours, if possible, to get a better understanding of your potential home. As Australia is vast, consider your location carefully. A place near the city centre will provide easy access to co-working spaces, cafes, and recreational facilities, whereas regional areas will provide peace, tranquillity, and a slower pace of life. Consider the proximity to amenities, your preferred workspace, public transportation, and the overall vibe of the neighbourhood.
Setting up local bank accounts and financial considerations
Setting up a local bank account will ease your financial transactions and help manage your funds efficiently. Australia's banking system, with leading institutions like Commonwealth Bank, ANZ, Westpac, and NAB, is trustworthy and secure. Many banks offer the convenience of setting up an account online before your arrival, although you may need to provide identification documents such as your passport and proof of address in person once you're in the country. Also, remember that the cost of living in Australia is relatively high. From rents and dining to transportation and leisure activities, ensure you have a realistic financial plan. Budget for potential surprises too, such as medical emergencies or spontaneous exploration trips.
Navigating local transportation
Australia's urban areas offer efficient and extensive public transportation systems, including trains, buses, trams, and ferries, which make navigating the cities a breeze. Grab a local transport card, such as Sydney's Opal Card or Melbourne's myki Card, for an easy, tap-and-go experience. However, if you're looking to explore regional Australia or enjoy off-the-beaten-track adventures, consider renting a car or caravan for those long drives amidst Australia's stunning landscapes. Remember, Australia is large, and distances between cities can be vast, so plan your travels accordingly.
Adapting to local customs and cultural nuances
Immersing yourself in Australia's culture is part of the digital nomad journey. Australians, or 'Aussies', are known for their laid-back, friendly, and often humorous nature. Friendship and community ('mateship') are important, and outdoor activities are a favourite pastime, thanks to Australia's diverse natural beauty. Casual attire is generally acceptable, even in many professional settings, reflecting the overall relaxed attitude. Australians appreciate directness in communication, but remember to be polite and respectful, particularly when discussing the indigenous Aboriginal culture. Tipping in Australia is not compulsory as in some other countries, but it's common to leave a small tip for excellent service. Lastly, don't forget that Australia's seasons are the opposite of the Northern Hemisphere, so pack your clothes accordingly, and enjoy celebrating Christmas on the beach!
VII. In summary
Pros
High quality of life: Australian cities, particularly Melbourne and Sydney, consistently rank high for quality of life. The country offers a clean environment, outdoor recreational opportunities, high standard of healthcare, and low crime rates.
Solid infrastructure: Australia provides excellent technological infrastructure, including widespread high-speed internet, making it ideal for remote work.
Diverse environments: Australia's geographical diversity offers choices ranging from vibrant city life to peaceful coastal towns and rugged outback landscapes.
English-speaking environment: As an English-speaking country, Australia presents fewer language barriers for most digital nomads.
Vibrant social scene: Australia's cosmopolitan cities have a lively food and drink scene, with a plethora of entertainment options, which can be an added advantage for digital nomads looking to socialize and network.
Cons
High cost of living: Australia is one of the most expensive countries in the world, particularly in major cities. Accommodation, food, and entertainment costs can be significantly higher compared to other digital nomad destinations.
Visa regulations: While Australia offers various types of visas, the process can be complex and restrictive for digital nomads. As of my knowledge cutoff in September 2021, Australia does not offer a specific digital nomad visa.
Time zone challenges: If digital nomads need to collaborate with teams in North America or Europe, the substantial time difference can pose a challenge.
Distance from other countries: Australia's geographic isolation means that travel to other countries can be time-consuming and expensive.
Internet accessibility in remote areas: While cities provide good internet coverage, connectivity may be limited in more remote or rural areas.
Venture to Australia and you'll be landing in a paradox. A place where cityscapes ripple with technological vigour, but just a stone's throw away, nature sprawls out in an untamed display. It's here where morning emails are fired off over a flat white in a bustling Melbourne cafe, while the evening might see you riding waves under the setting sun at Bondi Beach.
Australia, with its pulsing cities and riveting landscapes, seems a shoo-in for the perfect digital nomad destination. But dig deeper and you'll find that this distant land isn't all easy living. With high living costs and a dance with visa bureaucracy, it's a place that requires you to pay your dues.
And the challenges don't stop there. Picture yourself on a conference call as your American counterparts are just about to start their day, the Australian night stretching out before you. Or trying to find a decent internet connection in the heart of the Outback – let's just say it's easier to spot a kangaroo.
But here's the thing, for the nomad who's ready to embrace the hiccups along the road, to dive into the quirks and take it all in their stride, Australia isn't just a destination. It's an experience – raw, untamed, and full of possibilities.